Chainsaw 16" Electric
This STIHL electric saw with 16" bar, produces little noise, making it convenient for use indoors or near homes. All this unit needs is power from a wall outlet. Very light and handy. Innovative safety technology with coasting brake and Quick Chain Tensioning.
Features:
Chain Quick Tensioning (B) – After releasing the sprocket cover the chain can be adjusted using a thumb wheel without the need for tools.
QuickStop Super Chain Brake (Q) – The QuickStop Super chain brake is an additional braking system. The system is activated as soon as the operator's hand comes out of contact with the rear handle.
Overload protection – Turns off the motor before it overheats, for example when significant pressure is applied or if the guide bar becomes jammed in the wood.
Ematic chain lubrication system – The Ematic chain lubrication system ensures pinpoint lubrication of the saw chain links and guide bar rails. When used with STIHL OILOMATIC saw chain, it will provide maximum lubrication, longer wear and less oil consumption than conventional methods of chain lubrication. The Ematic system can reduce bar oil consumption up to 50%.
Use your toolbox to add equipment to a handy list you can then use to request rates or for your own reference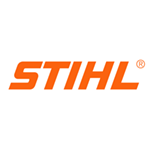 Images are representative of product. Product may not be exactly as shown.